RBC NEWSLETTER (Winter 2023)
Welcome to our Newsletter, which is published after Closing Day each year and summarises what has been completed during the season.
The season started on 15th April in sunshine and ended on Saturday 16th September in sunshine. Having celebrated our centenary year the previous season it was a little bit quieter, however we participated in all our friendlies and trophy competitions as normal.
Visiting Groups
The Bowling Club welcomed Stirling Scout Club on Friday 12th May. My thanks to Graeme Campbell for assisting me in this again this year. We also welcomed Logie Rainbow Group on Wednesday 17th May. My thanks to Susan Campbell for letting this event take place. Stirling Carers Group, who use our clubhouse regularly attended on Thursday 22nd June, and enjoyed two hours of exercise and learning how to play bowls.
Riverside Primary School
We held our annual visits from the Primary School on Fridays 2nd and 9th June. I must mention my thanks to all who assisted me this each year, we're always tired at the end of each session, but it's so worthwhile to see so many children on a bowling green at once, playing bowls. My thanks also to Sports Active (Stirling) and particularly Scott Kinross, co-ordinator, who made this possible.
Try Bowls Open Days
Two afternoon events were held this season. The first was held on Saturday 6th May. Due to the weather, it wasn't a great success. We also held another one on Saturday 9th September and with weather favourable, this was much more successful, resulting in many attending and trying bowls for the first time. Please encourage any of your friends or family to any try bowls events when we have another session early in season 2024.
New venture for RBC during season 2023
The Bowling Club piloted a new scheme during July and August. We were approached by Sports Active to hold weekly bowling workshops for Scottish Disability Sport group. This was held for eight weeks, every Friday morning between 11am and 1pm. All participants enjoyed this scheme and we're hoping to expand this in season 2024.
Carpet Bowls
This afternoon session started last winter and was a success. This will resume on Tuesday 3rd October at 2pm
Social Events
We second Race Night was held on Saturday 9th September. It was a great success, with everyone enjoying themselves and some money raised towards the club. Thanks to all who sponsored a race, a horse and attended on the night. Our next social evening will be held on Saturday 9th December. This will be our Christmas Quiz, tickets are £5.00 each. Please support the club! Contact John or Jackie Whyte for details.
Friday Night in the Lounge
Every Friday evening the lounge is open from 7.30pm. Please come down and socialise, darts and pool table available, fritters are delivered from the local chip shop weekly – highly recommended!
Clubhouse Lets
The Clubhouse can be rented for £20.00 per hour. If you are interested in a rental, contact Jackie Whyte. (jmw120751@gmail.com)
Wepbage
Our webpage continues to be updated by George Grant. This is an important source of contact, particularly in close season. If you want anything included or if you want to browse through it, please take a look. (www.riversidebowling.club)
Internal Competitions
Winners of the competitions below:-
Championship Winner: Billy McLeod R/U: John Millar
Presidents Winner: Billy McLeod R/U: George Kirk
Handicap Winner: John Millar R/U: Jim Kendall
Senior Singles Winner: Billy McLeod R/U: George Kirk
Andrew Elliott Winner: Bridget Cummings R/U: Colin Campbell
Pairs Winner: Billy McLeod & Jim Kendall R/U: Fraser Muirhead & George Grant
Triples                  Winner: Billy McLeod/Jim Kendall/Aileen Taylor
R/U: John Millar/Geoff Sutherland/Darryl Abraham
Club Pairs Winner: John Millar & Jackie Whyte R/U: Jim Kendall & Willie Davidson
2-Bowl Pairs Winner: John Millar & Dick Cairns R/U: Iain Gillies & Stewart Samuel
Centenary Cup Winner: Billy McLeod R/U: Bridget Cummings
Mixed Pairs Winner: Iain Gilles & Aileen Taylor R/U: Jim Kendall & Linda Parry
Tuesday Rink Game Winner: Aileen Taylor
Monday Evening Rink Game Winner: Ian Mackenzie
Skip of the season Winner: Bridget Cummings
Friendlies during season 2023.
Riverside Bowling Club participated in all their friendly games this season, except against Callander as it was cancelled due to the weather. We hosted a touring team from North Yorkshire on Monday 29th June. Our Weir Cup game against Spittalmyre this year marked it's centenary year, This was held at Spittalmyre with the host club winning
Invitation Pairs event (Sunday 18th June)
We were able to hold this Pairs event this season. The winners were Gary Malcomson and Aaron Furzer.
My thanks to the members of the club who assisted in advertising this event, and to the sponsors Plumbase Supplies.
           Invitation Pairs finalists from June 2023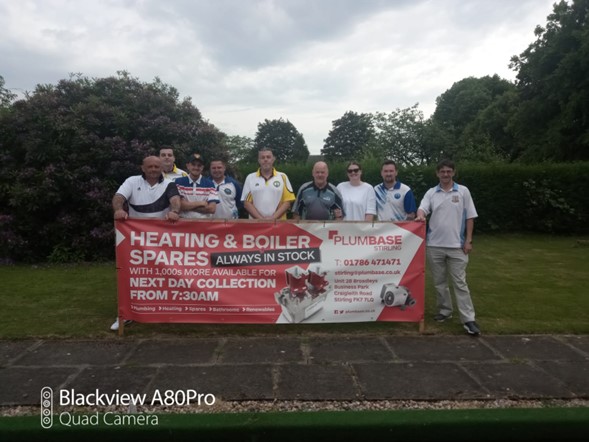 Champions 2023
Championship: W McLeod
President's : W McLeod
Senior Singles: W McLeod
Handicap: J Millar
Andrew Elliot: B Cummings
Centenary Cup: W McLeod
Club Pairs: J Millar & J Whyte
Challenge Pairs: W McLeod & J Kendall
Two Bowl Pairs: J Millar & J Whyte
Challenge Triples: W McLeod, J Kendall & A Taylor
Mixed Pairs: I Gillies & A Taylor
Monday Rinks: I Mackenzie
Tuesday Points: A Taylor
Disability Multi Sports
RBC will be hosting weekly sessions for this group organised by Sports Active (Stirling) every Friday from 7th July (11am – 1pm) for 8 weeks.
---
Members & New members
Looking forward to season 2023. If you are looking for a club to join then you can find Application forms in documents
For all members you can find the Directory Information form in documents.